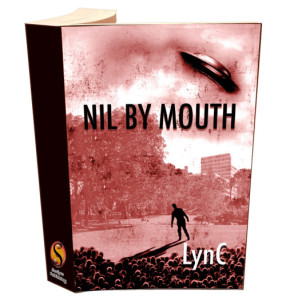 LynC's first published novel, 'Nil by Mouth' is no longer available online and only limited paperback copies are available direct from the author.
Shortlisted in 2015 for the Norma K Hemming Award and Aurealis Award (SF Novel Category) [c.f. NEWS pages]
Reviews (5):
Amazon Customer (Peggy Wheeler)
(George Ivanoff's launch speech) 
George Ivanoff is a successful Australian Author
http://blog.boomerangbooks.com.au/launching-lyncs-nil-by-mouth/2014/11
In June this year, at Continuum X (the 53rd Australian National Science Fiction Convention), I launched LynC's debut science fiction novel Nil by Mouth. Today's blog post (the third in a series of launch related posts) is an approximation of my launch speech. I say approximation, because although I had notes, I actually winged a fair bit of it. Be that as it may, here we go…
Being asked to launch a book is a nerve-racking experience. You give a tentative YES and then you go off and read the book. But what happens if you don't like it? Will the publisher and author be offended? Will they ever speak to you again? The anxiety increases exponentially when the author is a friend. Needless to say, I was terrified when I finally sat down to read Nil By Mouth.
I'm sure you could have heard my sigh of relief from half way across the galaxy when I started reading Nil By Mouth. By the time I had finished the first page I knew I was going to like this book. A few pages later, I knew I would LOVE IT! It hooked me in, right from its mysterious title; past its opening scene; along its various twists and turns and changes of direction; through to its unexpected but very appropriate ending.
Nil By Mouth is a good, old-fashioned science fiction story. By that, I mean that it's a story in which the science fiction elements are integral, rather than simply being window-dressing. The alien culture, the concept of human beings being used as incubators — these things are a fundamental part of the story. And yet, there is also a great deal of emotion, characters development and relationship drama. I defy anyone to read this book and not feel like they've been put through an emotional wringer.
Much as I like the way in which humanity is portrayed in this book, it is the alien society, its intricacies and interactions with humanity that I love most. It's intriguing, it's complex and it's subtle. The layered alien characters, the subtlety of the relationships and the intricacies of the aliens' motivations. My favourite moment is when the protagonist realises that the insulting term used by his alien master in addressing him, is actually meant as a term of endearment. It implies so much and is beautifully handled.
Nil By Mouth is a story of SF ideas, held together in a narrative context by relationships — between humans and aliens; between humans and other humans; between aliens and other aliens.
I read the eBook in preparation for today's launch. But this is the sort of book that I will read again; the sort of book I'll pass on to my wife to read; the sort of book I'll stick under the nose of my daughter in a few years; the sort of book I'll spruik to my friends; and thus, the sort of book I MUST get autographed. I'm now reserving my spot at the head of the queue so that I can purchase a print copy. Don't get in my way! You have been warned.
Congratulations LynC, on writing an excellent book, a thought-provoking piece of science fiction and a believable and likeable set of flawed characters. And let me say here that even the antagonists are sympathetic and likeable in their own way… which is no mean feet to achieve as a writer.
So now, it is my great pleasure and honour to declare LynC's Nil by Mouth launched. Long may it sail the literary seas.
(Amazon Customer)
From the first paragraph, Nil by Mouth grabbed me and didn't let go. LynC managed to pull off a Sci Fi tale more imaginative and rich than I've read in a long time. Her aliens are more human than most people, and her human protagonist is real for me. I feel like I know him up close and personal. Thoroughly entertaining (and at the same time, thought-provoking) Nil by Mouth is a masterful story told by a masterful story teller. I finished reading the book days ago, yet the story is still with me. I rarely read a book twice, but Nil by Mouth is so filled with complexities, mysteries and wonders — and is so much fun, by the way — I will read it again, and again to make absolute certain I didn't miss a thing.
(Edwina Harvey on Goodreads)
Edwina Harvey is a published Author and Editor of many anthologies
This slim book by LynC was a very enjoyable read. It revolves around aliens invading earth, but starts some time after they've arrived in Melbourne, Australia. The locals grudgingly accept they are now dominated by an alien military, though anyone apparently catering to them, like the main character, Ale, who runs a pub the aliens use, under the strict supervision of Drander, an alien who occupies what used to be Ale's pub, is branded a sympathiser.
At the wave of her hand, Drander can stop or start the blood coursing through his veins, and she's adept at administering pain and pleasure. She's also insisted on sharing his bed, though he can't explain why. They do nothing more than share the space, and he theorises maybe she just doesn't like to be lonely.
Despite Ale being branded a sympathiser by other humans, Drander tolerates him giving food and work to the human refugees, outcast and wandering since the aliens have taken over.
Committing acts of treason on Drander's behalf lifts Ale to hero status, not amongst the humans, but amongst a sub-set of the aliens, though he's also taken on as [the general's] pet and/or surrogate mother to its children (Which is where the story derives its name from.) Ale lives absorbs the alien culture so readily that when he returns to the human race, he has trouble remembering human speech.
This is far from being your typical 4th of July, "They tried to conquer us but we whipped their sorry asses" style novel, instead it could well be a reflection of the refugee problems currently facing the world as well as gender stereotypes.
It's very insightful and thought-provoking, I found. The author's done an excellent job in world and character building, as well as producing a very readable story. She also provided a nice twist towards the end that makes you reconsider the position of masters and slaves and ponder just who holds all the power.
I highly recommend it!
(Rose Mitchell on Facebook)
Rose Mitchell is a Worldcon chair
Have just finished reading Nil by Mouth by first time author LynC. A mark of a good science fiction novel: I'm still thinking about some of the concepts she explored. People had been recommending this title to me for some time and it garnered a few award nominations, unprecedented for a first novel.
Highly recommend and look forward to more from this author in the future.
(David Grigg on Megatheriums)
David Grigg ia a published author and host of narratorium.com
http://rightword.com.au/megatheriums/2015/09/09/nil-by-mouth-lync/
In this short SF novel, we view an Australian city occupied by aliens from the point of view of Jack, a hotel-owner whose premises have been taken over. The relationship between the human owner and Drander, a possibly-female alien now in command of the hotel, forms the core of the novel. Initially a master-servant relationship, the relationship between the two evolves into something much more personal. It is, in effect, a strange love story between alien and human. It's very tricky to pull something like this off and make it credible, but LynC succeeds very well.
As well as this important plot line, the story covers a doomed rebellion against the invaders and an attempt to use humans (including Jack) as living incubators for alien babies. Through these events we slowly gain a better understanding of the nature of the aliens and what drives them. Despite some of the horrible things Jack is forced to endure, he begins to understand their viewpoint. Eventually, a reconciliation of sorts is reached.
Although short (about 40,000 words) this is a very readable and thought-provoking novel.